The Lady Tigers Basketball team has added a game on Wednesday this week at Verona starting at 4:30 pm. Come out and cheer on the Lady Tigers!
The Tigers will be playing in the Osceola Tournament this week. Their first round game will be tomorrow evening, Tuesday, Jan 25th at 4:30pm vs Climax Springs. All of the basketball games will be live streamed all week on Osceola schools YouTube account. Here is the link:
https://youtube.com/channel/UC_MNgCJA7mZ3AwX_a6-JICg
**RESCHEDULED** The mini-cheer clinic and performance has been rescheduled. The clinic has been opened up to any elementary students who weren't able to attend the previous dates. There will be a clinic/practice date on Wed. Feb 2nd from 4-5:30pm in the multipurpose gym. The new performance date will be Tues. February 8th during halftime of the girls game vs Weaubleau at approximately 6:00-6:15pm. Any NEW enrollees can get sign-up sheets in the Elementary Office and must be turned in by Friday, January 28th to receive a tshirt but students can join anytime up through the clinic date of 2/2. Cost is $20 & $5 for a bow. Those that joined previously are not required to do anything further. Any questions please contact the High School Office at 788-2543 x102.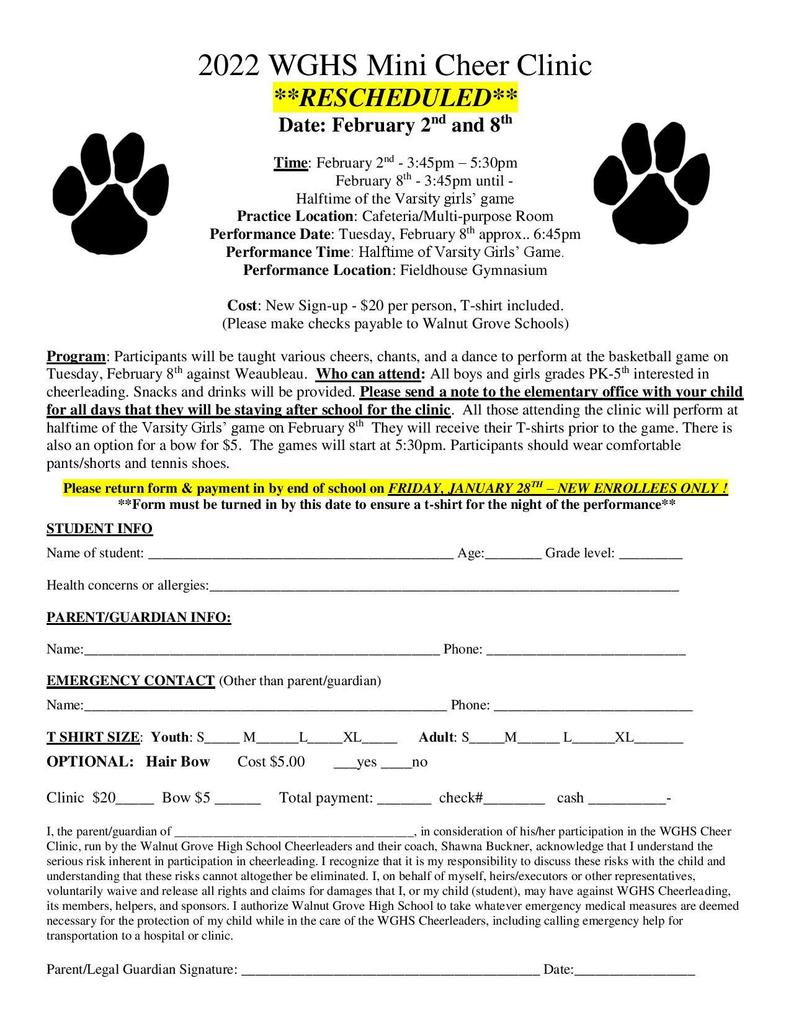 The Junior class is doing a t-shirt fundraiser to raise funds to go towards Prom and their senior year expenses. Orders can be placed with any Jr class member, on this facebook feed or through forms located in the High School Office. If questions please contact the High School Office at 788-2543 x102. Deadline for orders is Friday, February 11th.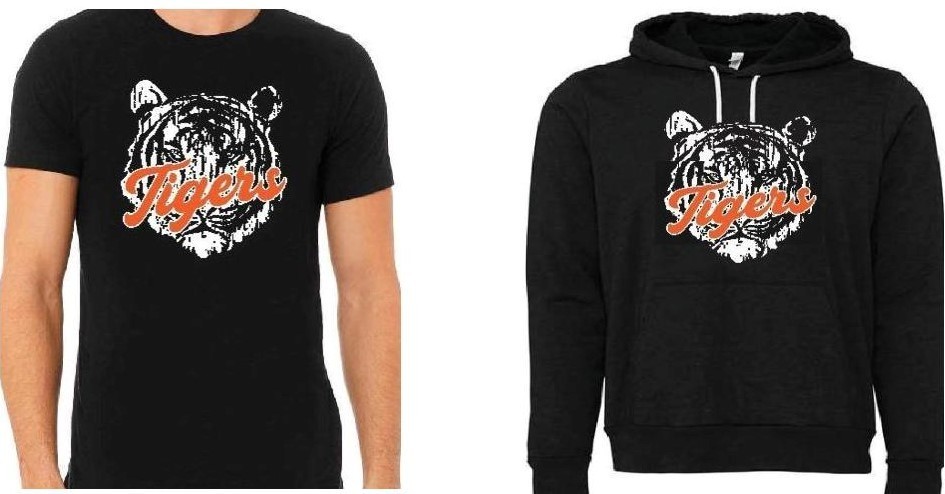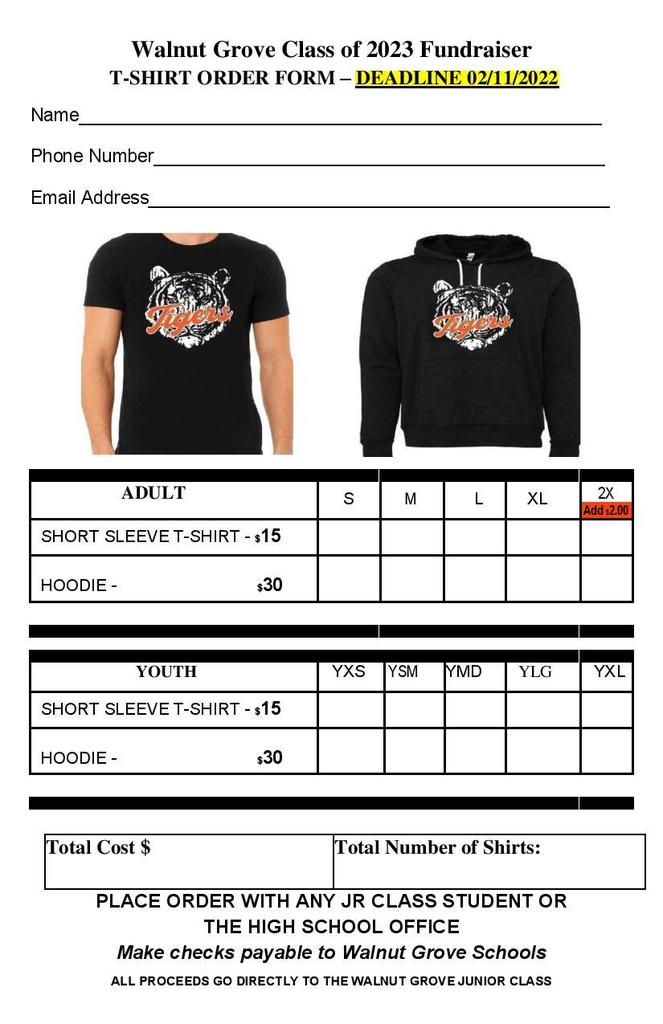 Homecoming 2022 will be February 10th following our night of games versus Hermitage. This year's Homecoming theme is Hollywood Homecoming. We are proud to introduce this year's Homecoming candidates beginning with Princess candidates Junior Jessika Ayres, Sophomore Raygan Dougherty and Freshman Rachael Kruger. The Queen candidates are Seniors Anna Bourke, Macaney Gulley and Rebekah Nations. Come out and cheer on your Tiger teams with games beginning at 5:30pm and the Homecoming festivities beginning at approximately 8:30pm.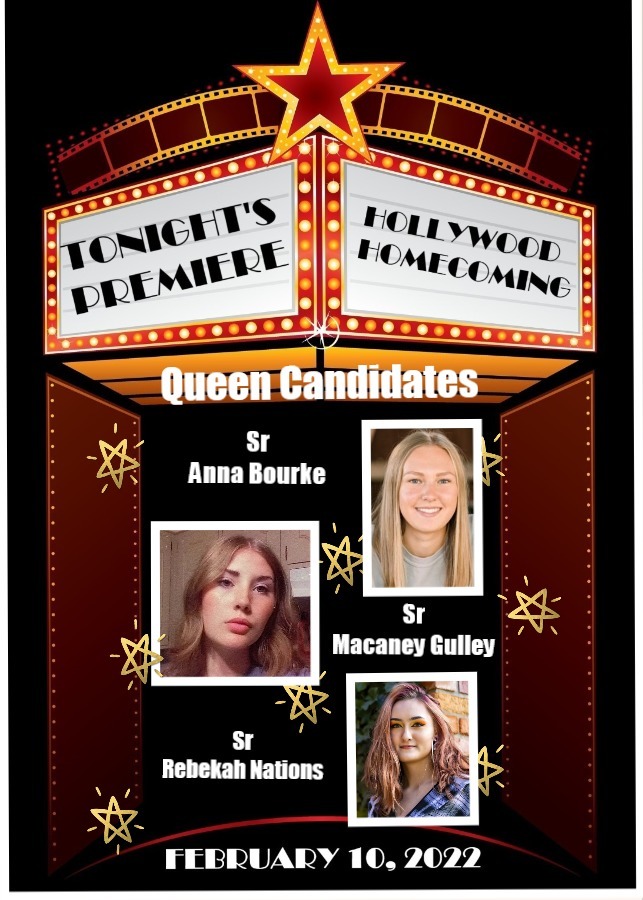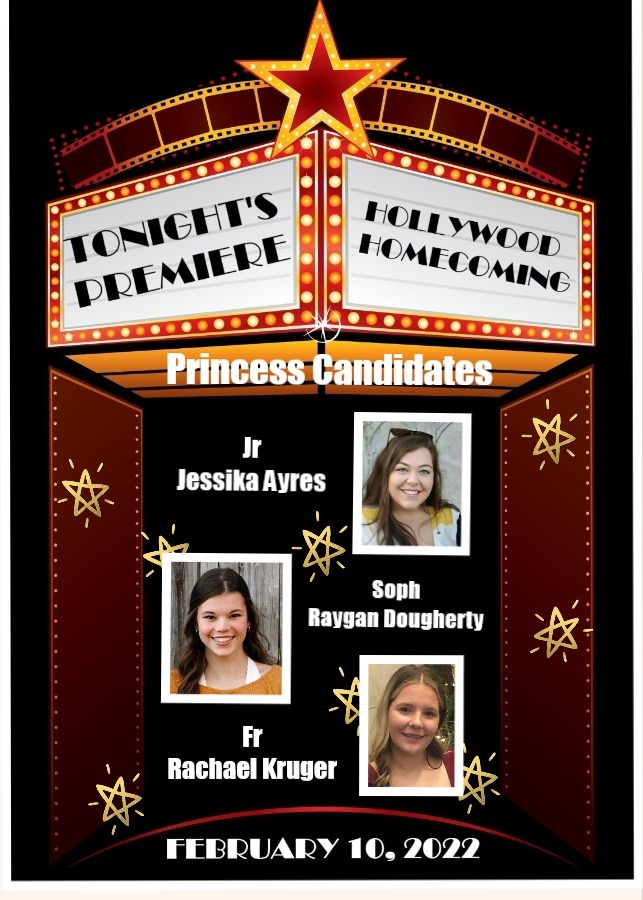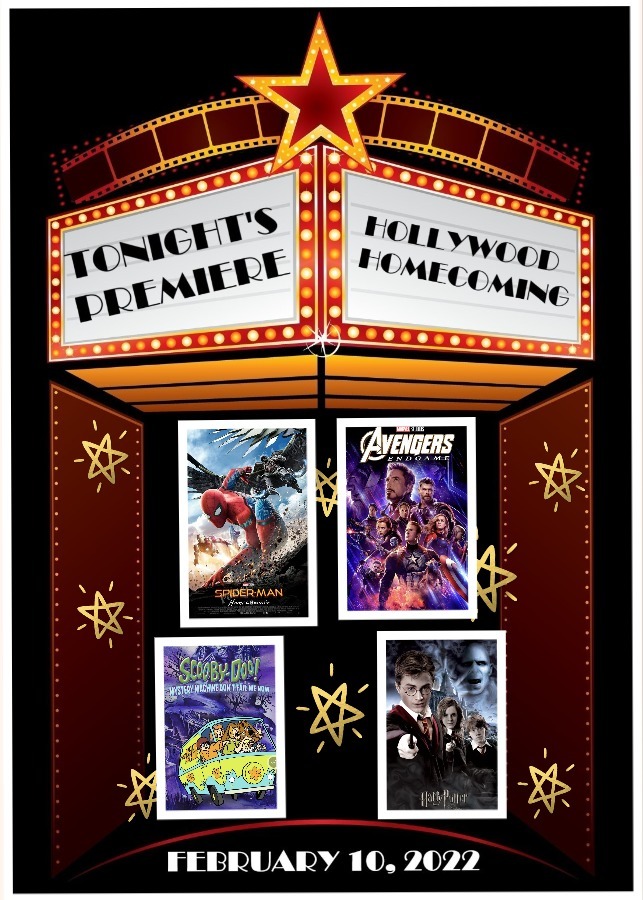 Congratulations to the January Students of the Month and a big Thank you to Cactus Ridge Cafe for providing lunch for our students of the month.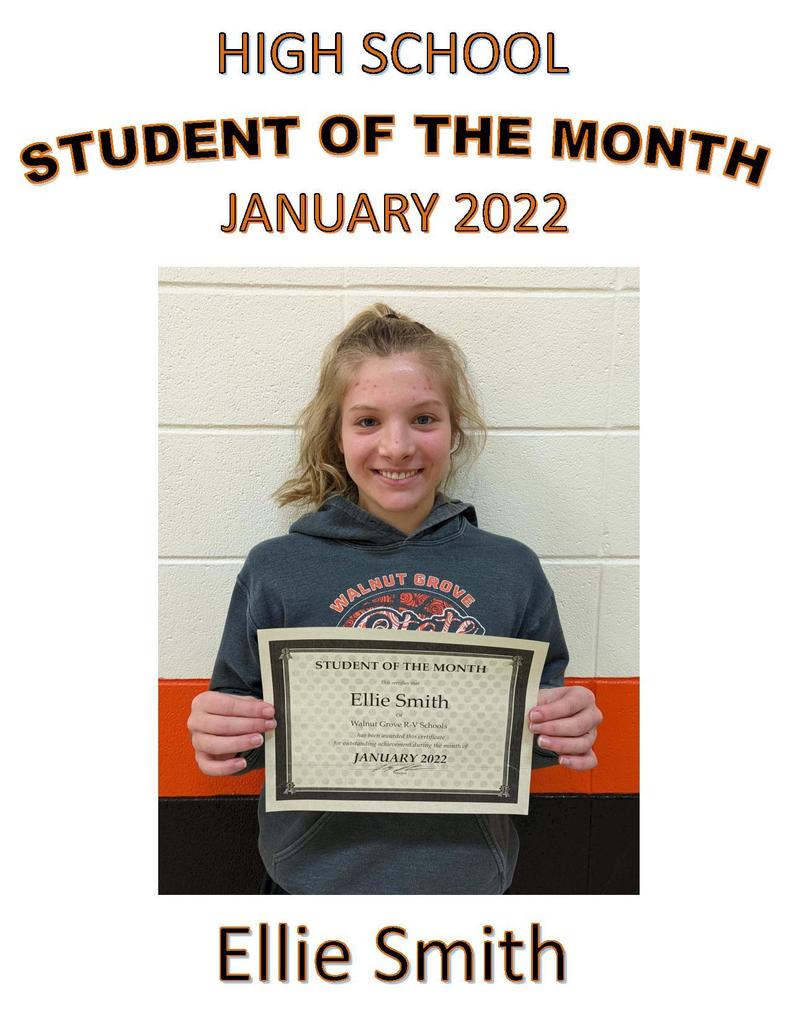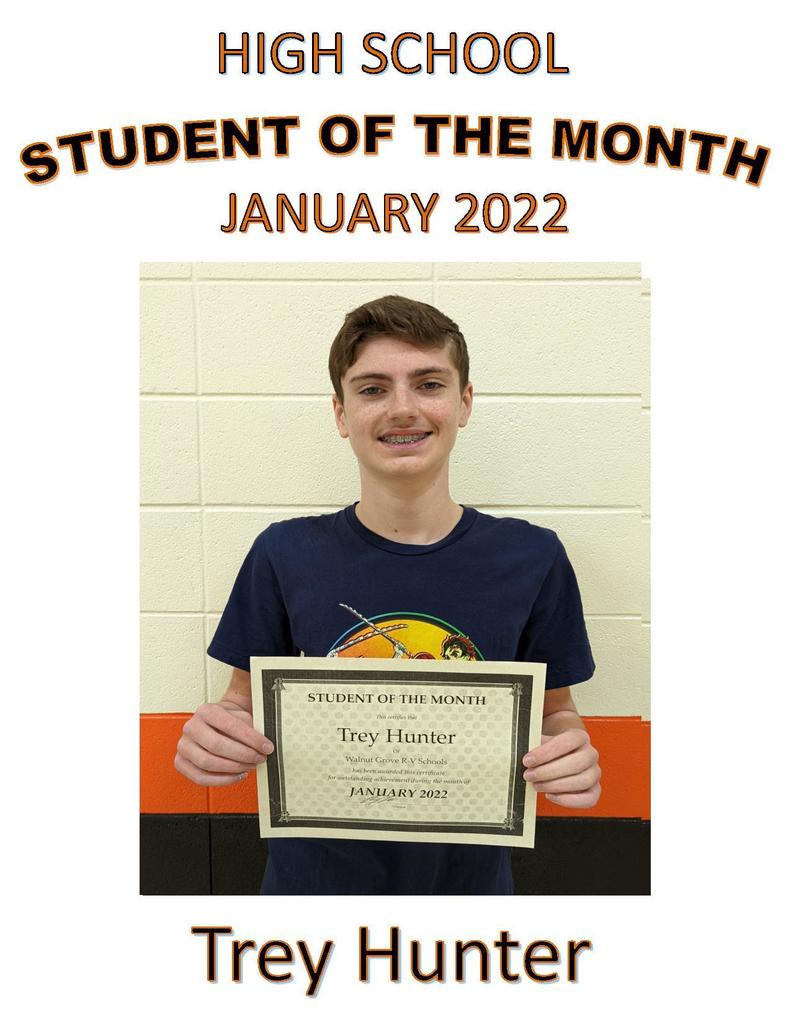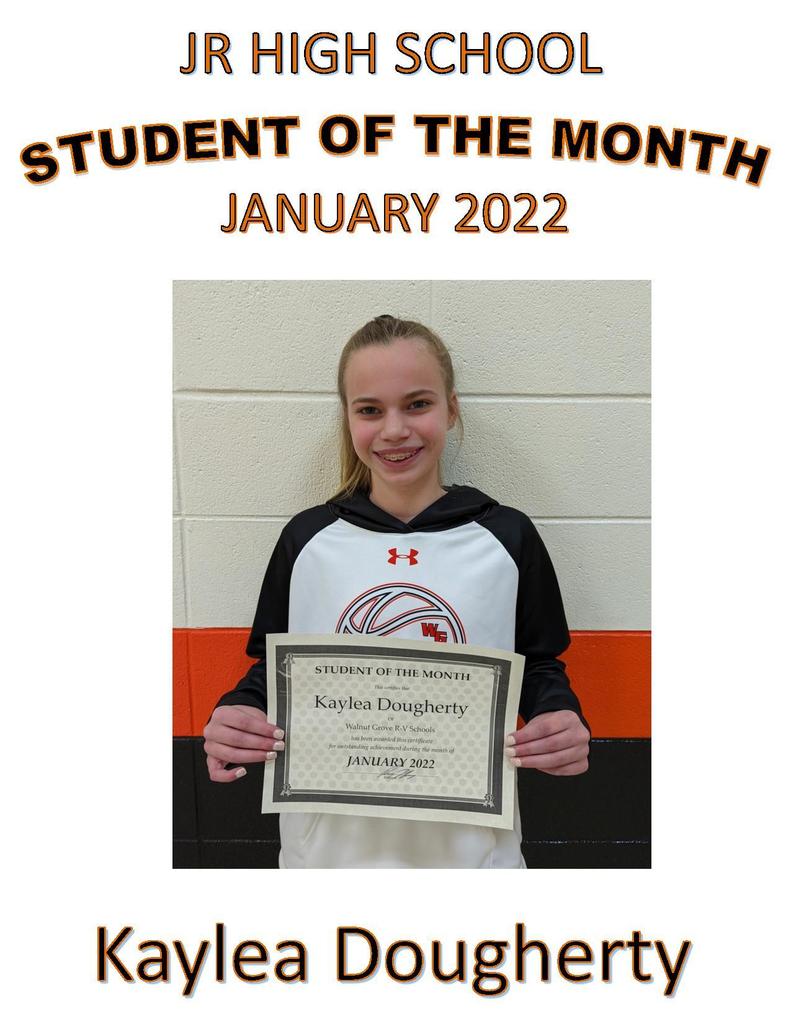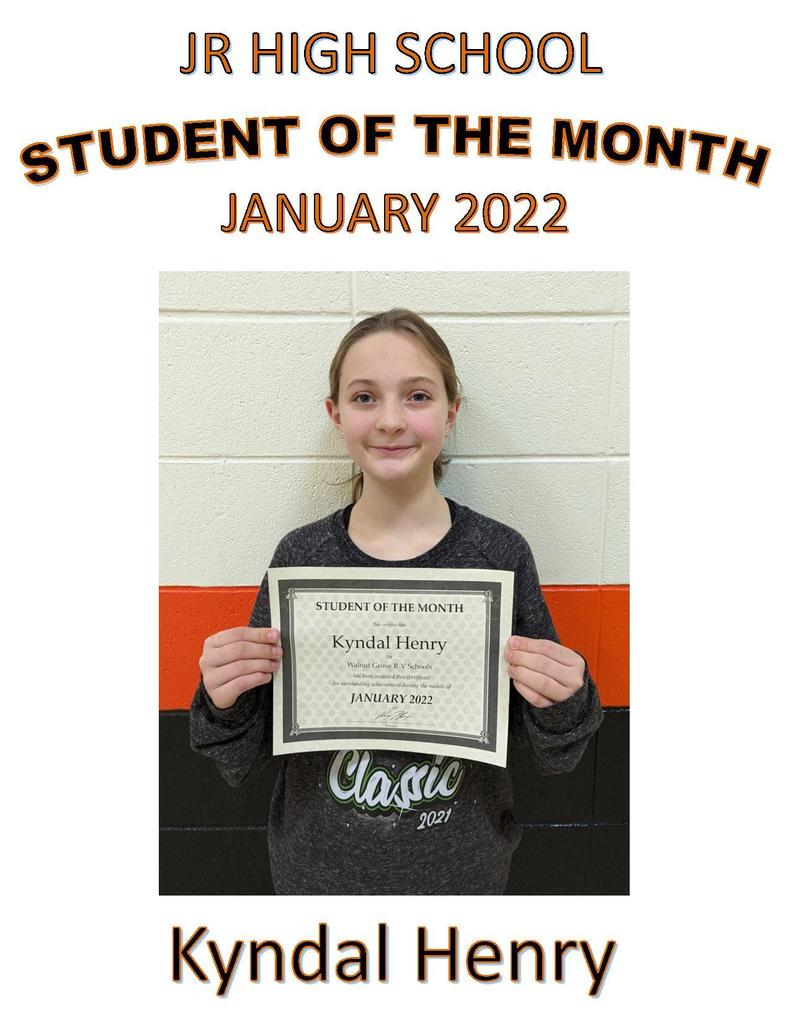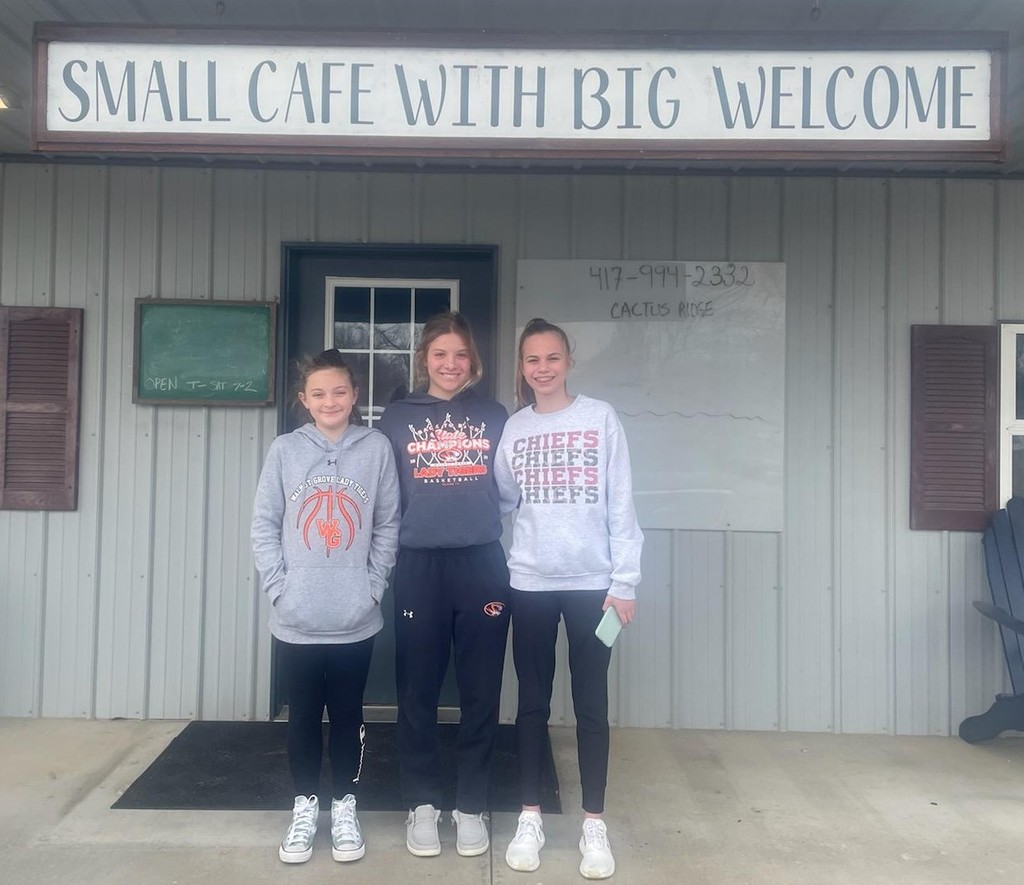 Congratulations to Mrs. Kruger and the Walnut Grove History Bowl team for placing 1st in the PCL conference History Bowl tournament.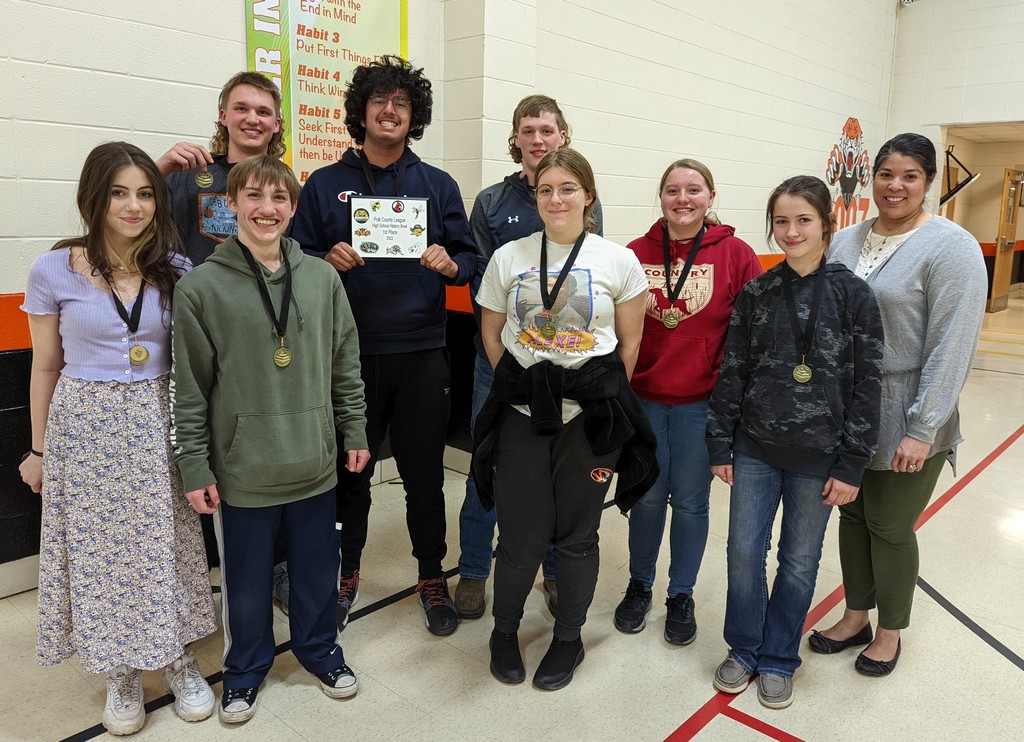 Ms. Greggs' sewing class showing off some recent projects.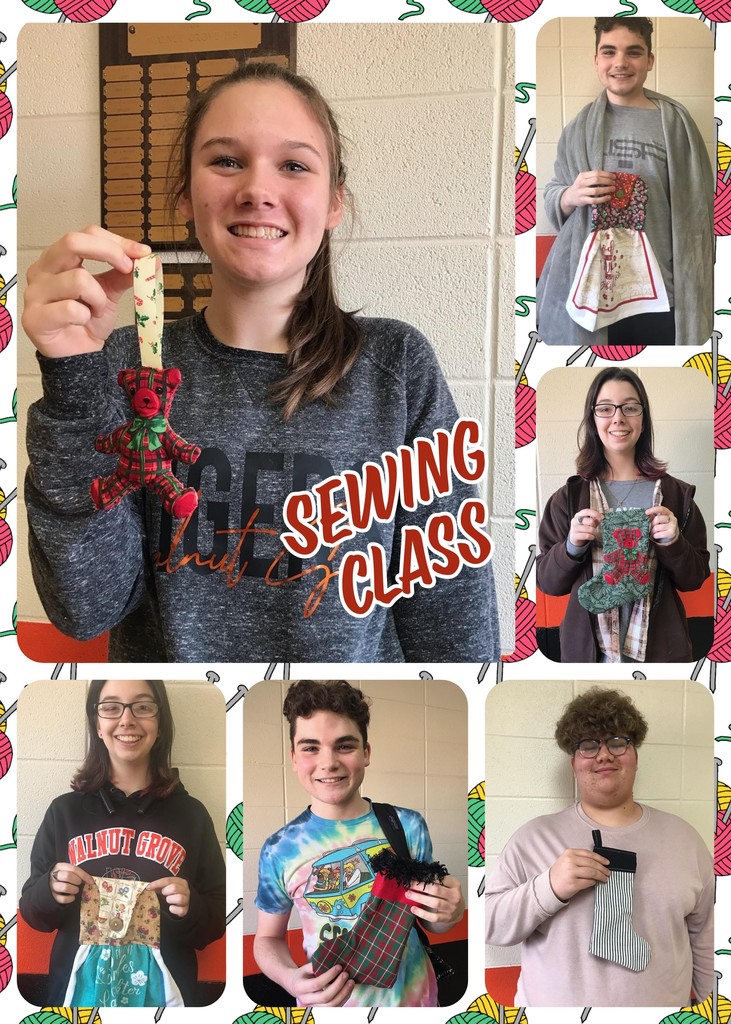 The 7th grade has been busy making dreamcatchers in Ms. Greggs' class.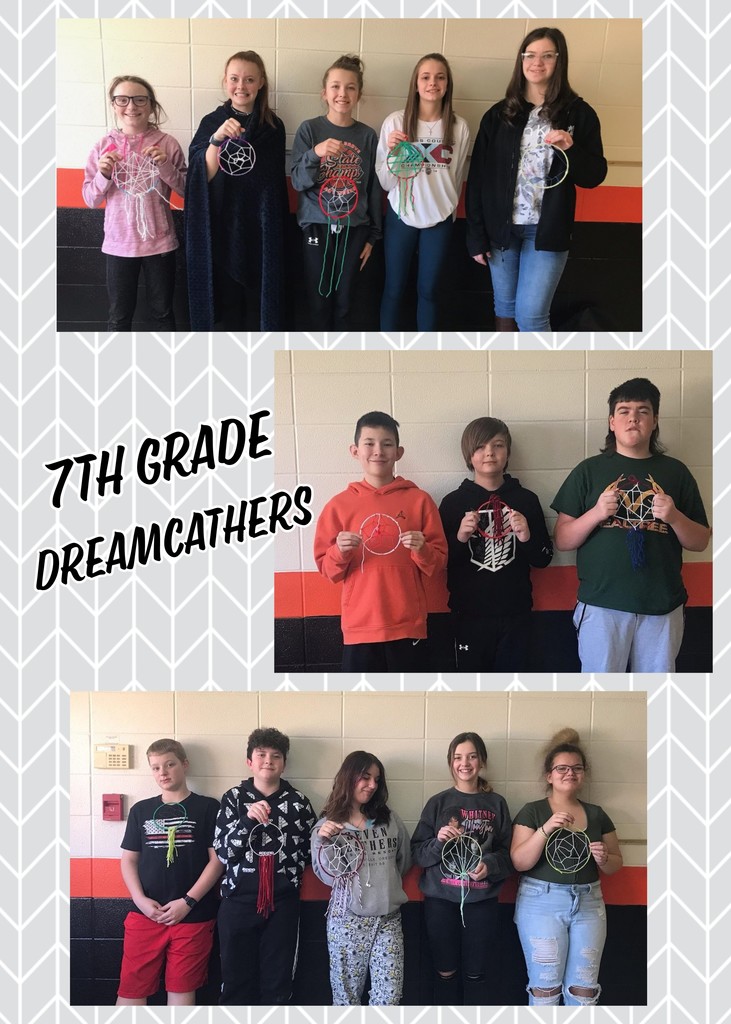 Due to sickness in the Niangua School district, tonight's basketball games are cancelled. A makeup date is to be determined.
The Mini-Cheer performance scheduled for this evening has been postponed due to the cancellation of tonight's basketball games. All mini-cheerleaders will need to go home after school instead of staying for clinic. If the after school instructions are DIFFERENT than their normal afternoon release procedures please contact the Elementary Office ASAP to make arrangements. The performance will be rescheduled on a future date to be announced. We apologize for the inconvenience.
The Tigers and Lady Tigers will be hosting the Niangua Cardinals here at home this evening. Games will begin at 5:30pm. There will on be Varsity girls followed by Varsity boys. There will be NO JV games tonight. At halftime of the varsity girls game there will be a performance by the Walnut Grove Mini-Cheerleaders !! The performance time for the mini-cheerleader dance has been moved up to 6:00pm due to no JV games. Come out tonight to cheer on your Tiger teams and to see the awesome performance by our Walnut Grove Cheerleaders and Mini-Cheerleaders !
The boys basketball team will be competing in the Osceola Tournament next week. The boys open play vs Climax Springs on Tuesday at 4:30 pm.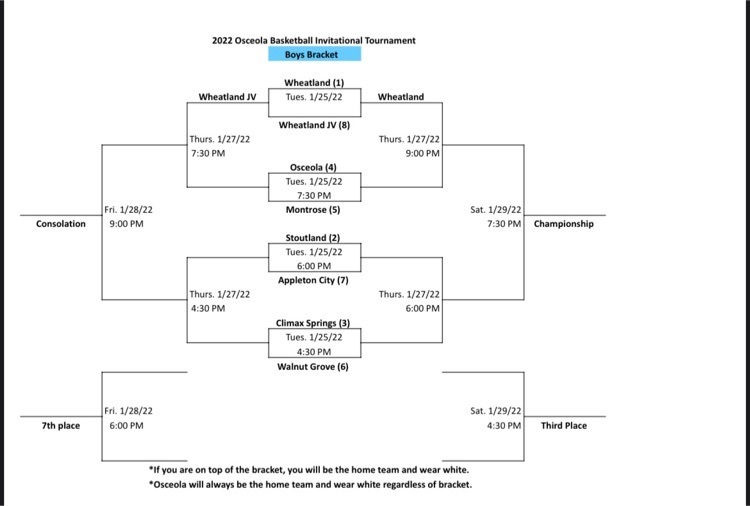 The girls basketball team has added the following home games to their schedule: Saturday February 5th vs. Hollister @ 2 pm Monday February 14th vs. Springfield Rush @ 6 pm

Thank you to those who make sure our students get their Tiger Treats every week!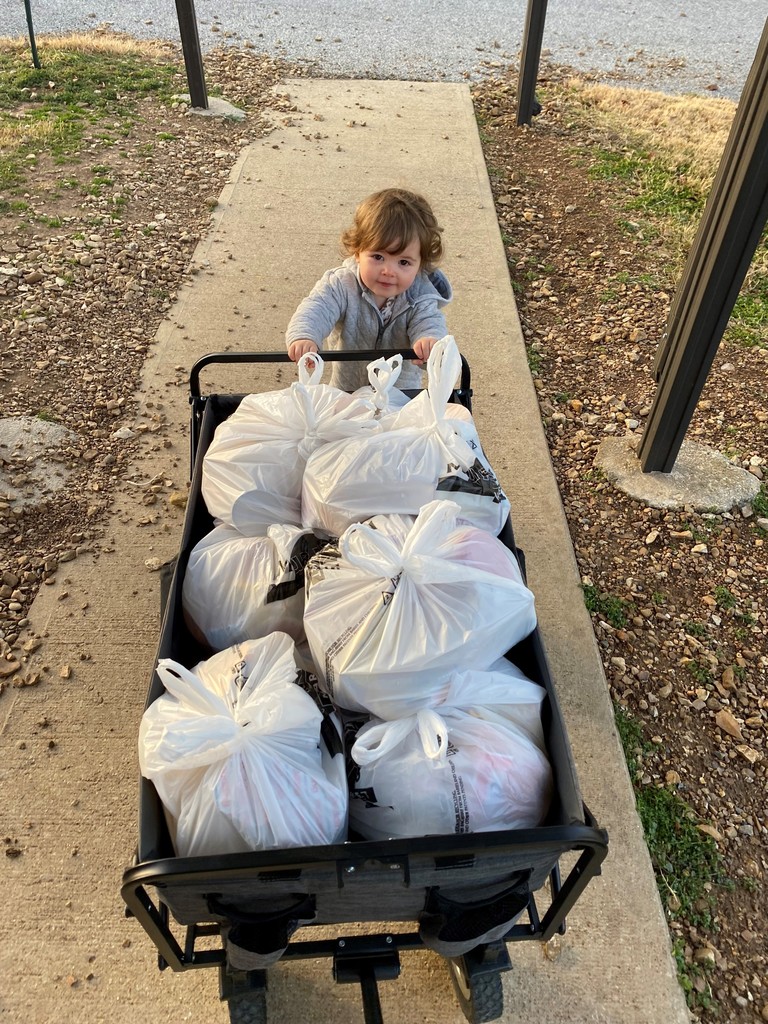 The Tigers and Lady Tigers will be hosting the Tigers from Humansville this evening in the Fieldhouse. Games begin at 5:30pm. Order of games will be 2 quarters JV boys, varsity girls, varsity boys. Come out tonight and cheer on your Tiger teams !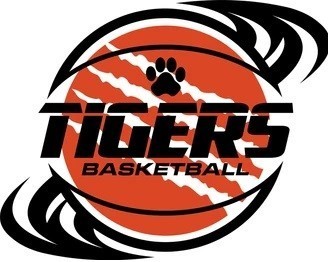 Due to Covid issues within the girls basketball team, the team has had to withdrawal from the Pleasant Hope Tournament this week.
The Lady Tigers will be competing in the Pleasant Hope Tournament next week. They will be the #1 seed and open play vs Humansville on Tuesday at 4 pm.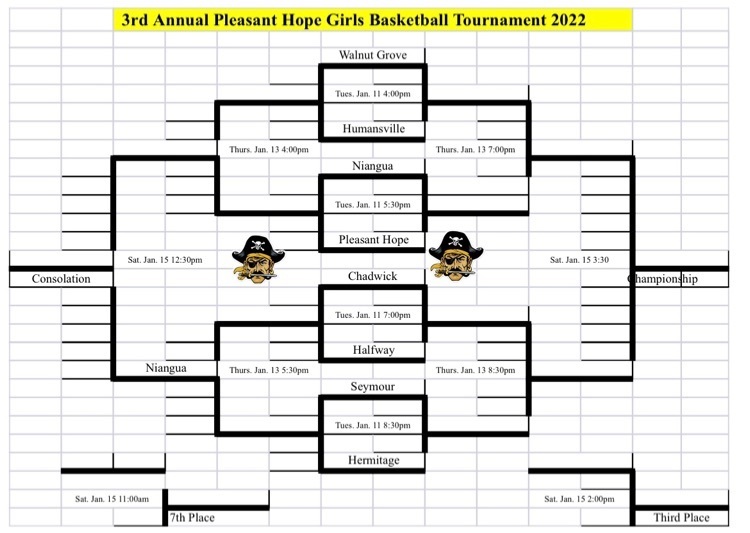 The girls basketball game tonight at Spokane is still on as planned. Varsity will start at 6 pm and there will 1-2 quarters of JV to follow. Come out and cheer on our Lady Tigers!
Due to inclement weather, WG R-V will be closed on Friday, January 7. Follow AMI Virtual Learning Procedures, Day 2.